…kickstart your writing life with the 3 Week StoryADay Course
This course will be running live, April 4-25, 2016.



$97*
Imagine sitting down to write and not feeling huge, crushing guilt because you haven't achieved anything lately.
Think how would it feel to start your writing day looking at a folder full of completed stories, that prove to your inner critic once and for all that you can write.
What would it be like to think about your writing and feel energized and excited? And then to share that excitement with people who are rooting for you and really 'get' it?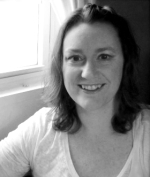 That's how I felt almost every day during StoryADay May in 2010 and for most of my writing life since. That's how I want you to feel about your writing, too.
But maybe the idea of plunging into the StoryADay May commitment is a bit scary. How do you know you won't fail?
As with any worthwhile project: you don't! But I do have something for you, that might just failproof your next big writing push.
We're In This Together
I always wanted to be a writer, but doing the actual work is hard. I would go through spurts where I would write for a while, but every time it got difficult I'd stop. I don't know how many stories I started and then set aside every time the plot got complicated or the phone rang. Can you guess how many times I went back and finished them?
Decades were passing by and I was writing one or two stories a year. Sound familiar?
Then I discovered the two things that forced me to stop talking about writing and do some writing: specific, audacious goals; and accountability.
I plunged into StoryADay May and came out with almost 30 complete, crafted stories. Later in the year I wrote a whole novel! I completed more writing projects last year than I had in the previous ten years all rolled together.
Can you imagine the sense of achievement I felt, looking back on 2010 and every year since?
Taking on a big, audacious writing challenge — and doing it publicly — was the start of all that.
If you're smart, you get all trembly every time you think about signing up. You are:
Scared of the commitment
Scared of failing to finish
Scared that eveyrthing you write will suck
Overwhelmed and unsure where to start
But I'm not going to leave you out there on a limb.
The StoryADay Short Story Warm Up Course
(*all new this year: Private Facebook Group!)
This is a three week course during which you'll write (and finish) ten short stories.
I've run this course many times now, and here's what people have to say about the course and  StoryADay May:
I've really enjoyed this course and it's helped me write more quickly and with more confidence. Starting with twitter fic and working up in length was a real eye-opener! The course was well worth what I paid for it. Thanks very much 

– Brook
I'm really enjoying writing for the first time in a long while.

-Mary
This has been one of the most fulfilling activities I've ever participated in! I have a body of work I can be proud of, and I really felt like I grew as a writer.

-Carrie
This course will be running live, April 4-25, 2016.



$97
At the end of three weeks you will have:
Personal contact with me and others going through the course.
10 completed stories under your belt before May even begins,
The confidence to know you can actually do this,
Practice with your best working habits before the challenge begins.
A group of peers who have gone through this with you.
What's In The Box?
(OK, there is no box. This is all digital.)
The course runs for three weeks and here's what you'll get:
One 30 minute coaching session with me, to talk about your writing, your writing life and your plans for the future.
Each week you'll get 2 lessons (video, or audio as well as a written transcript) on aspects of short story writing that will allow you to jump right in and start writing right away.
You will write 3 short stories a week, (four in Week 4) using a system that starts small and builds on each success to show you that you can write and you need not become overwhelmed. You'll finishing the class with 10 completed first drafts that you can begin polishing and submitting to publications (that's the 'goals' part).
We'll develop a system for gathering and storing ideas, so that you never have to sit down at your desk and stare at an empty page. (You'll build your own customized system during the class, and come out with 45 story sparks — enough to last through the class)
You will have access to a private forum at StoryADay.org just for this class, where you will to post your work, trade advice and experience with your fellow classmates,and start building the friendships that will get you through your toughest writing challenges (that's the accountability). This is where you can get personalized advice from me.
You will review other people's writing in the forum, and provide constructive criticism — sharpening your own skills in the process.
We'll have weekly Q&A calls so we can dig into the issues, talk about challenges and share tips on the week's topics.
What's In The Course
This course will be running live, April 4-25, 2016.



$97
So what's in each week of the course?
Bonus! You get a free copy of the Time To Write Workshop (which sells for ($17)
Then the course starts:
WEEK 1
This week we'll focus on carving out time for your writing from your already-busy schedule. We'll set in place systems for creating writing time, gathering and storing story sparks, and we'll start writing. This week is low-stress and all about having fun with your writing. You should also schedule your phone/Skype coaching session for this week. By the end of this week you'll have:
15 story ideas stored and ready to use whenever you have time to write,
3 completed stories,
Strategies for breaking through writer's block,
A list of inspiration sources for days when the well seems dry.
A ready-made critique group and peer pressure encouragement, through your participation in the forums and Q&A call.
WEEK 2
This week we'll focus on building your confidence and finding your voice. We'll talk about the importance of first drafts and work on an assignment that will prove once and for all, that you have a unique voice that deserves to be heard. By the end of this week you'll have:
15 more story ideas in your Idea Bank
3 more completed stories: longer and more complex this week
A review of lessons you've learned about your tastes, voice, and writing habits and how to make them work for, not against, you,
Constructive criticism from your peers (and me) and an opportunity to critique and learn from other people's writing.
Personalized reading assignments designed to fire your imagination.
WEEK 3
This week we'll increase the intensity. Now that you know you can write stories, we'll stretch the word count and the number of assignments. But fear not! I'm not going to let you go it alone: we'll look to our mentors and authors that inspire us for help. We'll take a look at short story forms and complete a 'copycat class' that will teach us how to write like the masters. And we'll learn how to avoid common pitfalls when writing short stories. At the end of this week you'll be tired but victorious and ready to take on the world. This week you will complete:
Capture 15 more story starter ideas – for a total of 45: more than enough to keep you going through StoryADay
Take the  Copycat Class where you sit at the feet of your favourite author and dissect one of their stories then write your own story on their framework – just like a Renaissance apprentice!
Talk about story forms, giving you  confidence that you are writing the right kind of story for your subject,
The Pitfalls workshop, where you learn to avoid common mistakes made by storytellers.
An in-depth discussion in the forums and the Q&A call with people you've got to know over the past three weeks.
From Wannabe To Writer
What I learned from the [StoryADay] challenge was that I could write everyday. It was hard certainly. But it really helped me make the transition from student writer to "real" writer.
-Heather Muir
Build  Better Cheerleaders
Has this ever happened to you: someone told you that you're a dreamer? That you think too much? That your head is in the clouds? That you need to get real?
It's good, practical advice for life on planet Earth in the 21st century and I'm sure you've heard it from family, friends, your spouse, your boss, maybe even your kids.
But it's deadly for a writer. And it's really, really hard to explain to the non-writers in your life that, yes, you know you have to be practical but that sometimes you need to be able to turn off the practical and plunge into fantasy. It's not an escape, it's necessary. It's what allows us to be sane the rest of the time!
"Most of the very great poets have been not only sane but extremely business-like…Imagination does not breed insanity.

"Exactly what does breed insanity is reason. Poets do not go mad, but chess players do. So do mathematicians and cashiers."

-GK Chesterton, "Orthodoxy"
Hanging around with other people who understand that contradiction can be the thing that makes the difference between success and failure: between quitting and persevering.
But making a real connection with people in established writers' groups or online forums can be tough. Relationships are forged best when you go through a challenge together. The people you meet in the StoryADay Course will be some of your best cheerleaders as you move forward in your writing journey.
Invest In Yourself
While StoryADay will always be free, this course is not. But before you click away, let me tell you why.
Partly, it's to help me defray the costs of running both the course and StoryADay (server space isn't free, sadly). And partly it's to keep my husband from sending me out to find a 'real' job (just kidding, Honey, you're awesome).
But largely, it's about making sure that you are serious about investing the time and energy in your own development as a writer. It's easy to sign up for a free course, but it's just as easy to drop out of a free course. Pay for something and we're all much more likely to turn up and get our money's worth.
Writing is not an expensive hobby. All you need is paper, a pen, and possibly a library card. We're not used to investing in our writing, but if you want to take your writing seriously, it may be time to start doing so.
Traveling to a writer's conference is a great way to meet other writers, learn about the craft and invest in your development. But you can easily spend $200-400 on conference admission alone, not to mention meals, travel, accommodation, parking, extra workshop fees and audio versions of classes you missed or wanted to review.
90-minute online lectures routinely sell for $60-90 with no promise of feedback and big scary messages about 'absolutely no refunds'.
The three-week StoryADay Course includes
all classes,
downloadable audio and video, PDF transcripts,
access to a closed Facebook group, and oh yes,
a complete money-back guarantee, in case you feel the course wasn't right for you.
Sign Up Now
The StoryADay Warm Up Course  is priced at $97, for three-weeks' worth of lessons and assignments that you can use over and over again, any time you need a writing boost.
(Why so little, when other courses of simliar length can cost hundreds of dollars each? I want to make this pre-StoryADay course as accessible as possible.)
This course will be running live, April 4-25, 2016.



$97
Money Back Guarantee – Keep All The Materials!
Right now, I'm pretty sure I know what you're thinking: you'd like to sign up but it's hard to spend money on yourself, and you're wondering who is this woman anyway, and how you can know you aren't just throwing your money away.
I'm well aware that there are plenty of ways for writers to get scammed online and off. But this isn't one of them. Which is why I'm offering a money-back guarantee.
If you aren't happy, I'm not happy. If you don't feel you've got any value out of this course at the end of three weeks, send me an email and I will refund all your money (within 30 days is best because there's less paperwork, but I'm not going to be too strict). 
And yes, you get to keep the materials. And yes, I know I could get some jerks who abuse this but I think that's their problem. It's more important to me that you're confident you can sign up for this course at no risk.
So do sign up before the course starts on Monday, April 4.
This course will be running live, April 4-25, 2016.



$97
Thanks, and I hope to see you next week!
Julie
P.S. 
StoryADay in May will always remain free. You do not need to sign up for this course to take part in StoryADay. But if you are serious about making writing a part of your life, and if you would like some customized training and to be part of a close-knit online community of writers who share your commitment to writing, please do consider signing up the course starts on Monday, April 4, 2016