Shop for StoryADay workbooks, courses and free downloads here!
If you'd like to become StoryADay affiliate, here's some more information.
"When I think about what sort of person I would most like to have on a retainer, I think it would be a boss. A boss who could tell me what to do, because that makes everything easy when you're working."
– Andy Warhol, The Philosophy of Andy Warhol
Need a StoryADay journal, coffee mug or t-shirt to keep you going through the challenge? Click here.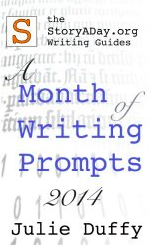 Other Ways To Support StoryADay