Shop for StoryADay workbooks, courses and free downloads here!
If you'd like to become StoryADay affiliate, here's some more information.
"When I think about what sort of person I would most like to have on a retainer, I think it would be a boss. A boss who could tell me what to do, because that makes everything easy when you're working."
– Andy Warhol, The Philosophy of Andy Warhol
Need a StoryADay journal, coffee mug or t-shirt to keep you going through the challenge? Click here.
Join the StoryADay Superstars during each StoryADay challenge, to join a private community of dedicated writers with direct access to StoryADay founder and director Julie Duffy. Find out more…
Enrollment opens April & August
---
Take the Warm-Up course any time you want:
ten writing assignments,
eight lessons with workbooks, worksheets, PDF , video and audio versions.
checklists, pep-talks and more
A six-week course with a 3-week timeline for writers in a rush and a 10-Day intensive schedule if you really love a deadline!
Free Lifetime Access & Upgrades $197
More Info…

---
Always feel like you could write if only could had the time? This is the workshop for you! Workbook, worksheets, audio lessons, mind-maps and more…$27 more info…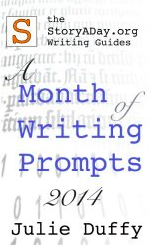 Other Ways To Support StoryADay