Shop for StoryADay workbooks, courses and free downloads here!
If you'd like to become StoryADay affiliate, here's some more information.
"When I think about what sort of person I would most like to have on a retainer, I think it would be a boss. A boss who could tell me what to do, because that makes everything easy when you're working."
– Andy Warhol, The Philosophy of Andy Warhol
Need a StoryADay journal, coffee mug or t-shirt to keep you going through the challenge? Click here.
Join the StoryADay Superstars during each StoryADay challenge, to join a private community of dedicated writers with direct access to StoryADay founder and director Julie Duffy. Find out more…
Enrollment opens Spring 2019
Take the three week Warm-Up course any time you want: ten writing assignments, six lessons with workbooks, worksheets, PDF and audio versions of the lessons, ten writing assignments, checklists, pep-talks and a 10-Day intensive version for writers in a rush.
Download and keep forever: $97
More Info…

A three-week interactive course, during which time you'll write ten stories and gather 45+ Story Sparks. Includes a private Facebook group where you can interact with StoryADay's Julie Duffy.
This course has ended.
Signup to hear when the live course opens again
Always feel like you could write if only could had the time? This is the workshop for you!  Workbook, worksheets, audio lessons, mind-maps and more…$27 more info… 
A Month Of Writing Prompts 2015
Writing a story a day for a month is a crazy endeavour, but one that hundreds of writers have signed up for every May since 2010.
During month of courageous creativity, writers learn how to write every day (not 'someday'), how to craft a story, how to write in different forms, how to fail and dust themselves off, and write again. Are you ready to join them?
The StoryADay Month of Writing Prompts book shares the daily writing prompts for StoryADay May 2015: 31 writing prompts, meditations, lessons and pep talks to accompany on your journey to becoming a more prolific, creative and fulfilled writer. Use these prompts during the StoryADay challenge, or any time you need a creativity boost.
From the Amazon.co.uk reviews:

1 of 1 people found the following review helpful

This is a wonderful book of prompts accompanying the Story a Day challenge that begins on 1st May. I undertook the challenge for the first time last year and was amazed at the creativity it inspired in me. The pressure to write every day forces you to think about characters and situations and soon a story has emerged. The prompts are great and varied, some short (100 words or a tweet) while others look for something longer, which can be a real challenge. At the end of the month you have a stock of stories that can be worked on further and polished. From the stories I wrote last year I've used a number and entered them in competitions. A magnificent tool for anyone looking to further their writing career.
$6.99 $2.99 until May 1, 2015
Buy Now From Amazon.com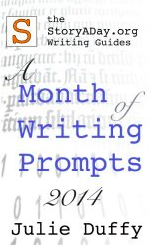 A Month Of Writing Prompts 2014
All the StoryADay.org prompts from StoryADay May 2014.
Use these prompts during the StoryADay challenge, or any time you need a creativity boost.
$6.99 Sale: $2.99
Buy Now From Amazon.com
One of the greatest gifts of writing is connecting with other people; entertaining readers. And there's no faster way to connect with readers than by putting together collections of short stories and releasing them to the thousands of e-fiction fans gathering at Amazon and Smashwords, among other online retailers. Use this simple system to write your own themed anthologies and release them quickly, building your own back-catalogue and growing your own fan base. Contains my timelines; which services and software I use; how to create your own cover; my best practices for maintaining contact with with readers; marketing advice. $15 More Info…
Writer's block can come out of nowhere. It can be temporary and related to one project, or it can be chronic, stopping you from writing anything creative. It is always painfully frustrating.
Julie Duffy, host of StoryADay.org, the month-long short story writing challenge, takes you through more than 60 techniques for breaking writer's block that have helped StoryADay participants become insanely productive writers.
Conversational and light-hearted, this powerful guide may just become your favorite new writer's handbook. $2.99
Buy Now From Amazon.com
You know that little voice in your head that says, "Your writing just isn't good enough"? It's probably right.
But that's OK, because there is always something you can be doing to make your writing better (and that's as true for Junot Diaz as it is for you and me).
This guide to becoming a better writer is packed with tips, techniques and exercises you can use to improve your writing even when you're away from your desk.
With StoryADay's trademark brand of inspiration, practical help, and humor, this is your go-to guide for whenever your writing life needs a boost. $2.99
Buy Now From Amazon.com
Other Ways To Support StoryADay
WRITE A SHORT STORY TODAY!
Download the free StoryADay Short Story Framework and:
Draft a short story today: no more stalling
Discover the story-telling secret in finishing your stories
Make today Day One of the rest of your writing life
DON'T MISS OUT ON YOUR LIFE'S CALLING!