Over at my personal blog today I wrote about my love for the coworking space I rent in my town. I jokingly call the old industrial building my 'writer's garret' and my post was called "Everybody Needs A Garret".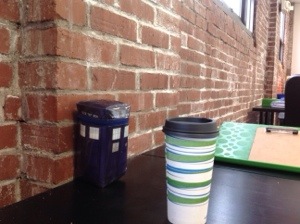 Which got me thinking. While it's important to be able to write everywhere and any time and in long or short increments, it is incredibly powerful to have a space or a routine that helps you focus on your writing.
Where Do You Do Your Best Writing?
Some people, like me, have the luxury of time, a hip hometown and a little extra moolah, and can rent cheap, shared office space as a writing garrett.
Other people carve out space in a disused closet or the space under the stairs, jam headphones on their ears and pound away at the keys there.
Some people write in bed, on buses, in libraries and coffee shops.
If you haven't set up your own writing space yet, experiment with some of these ideas until you find out what works for you.
Your Own Writing Space – Some Tips
If you want to try out having a writing space here are some tips:
Search your local area for a coworking space or a writers' collective with desk space for rent. You might be surprised at how much flexibility you can find for relatively little cost (I worked it out. If I spend a morning working at a coffee shop I'll buy a fancy coffee and probably a breakfast sandwich or something for lunch, to assuage my guilt at hogging one of their tables all morning. I might buy a bottle of water or a second coffee too. That's probably $10-14 per trip. I only have to turn up at my coworking space 10 times a month to match that…and here I don't have to ask a stranger to guard my gadgets while I run to the loo.)
Carve out a space in your home. It can be as little as an under-used corner of the kitchen, under the stairs, below an awkwardly sloped ceiling, in the space between two doorways. Pick up a cheap desk or, if you want a standing desk, pop this lap desk on top of a sideboard/buffet and call it your 'desk'. (This really cuts down on the amount of space you need, as there is no chair to worry about). Maybe order an lightweight room divider screen that you can set up around yourself while you work and fold up when you're finished. Get a desk lamp to illuminate (and focus) your little corner. Let everyone know that, when you're in your writing space, this is Writing Time and tell them how long they have to leave you alone before they are allowed to have their next emergency. [2. It will probably take a long time and some persistence before this lesson kicks in at all, even with other adults.]
Carve out an Aural Writing Room by picking up a decent pair of big, obvious over-the-ear headphones [3. Make them big and obvious to signal to the world that you are Not Available] and a White Noise or ambient sounds generator (White Noise is ok, but I really like the Study app for iOS, which has soothing spa-like music and birdsong that is supposed to make you smarter).
Remember, a Writing Garrett isn't an office. You don't have to have filing cabinets and lots of shelves [4. You already have books all over your house, don't you?]. I keep my essential writing supplies for the major current projects together in a backpack. I grab that, and go – whether my writing space for the day is the Garrett or 'back under the covers'.
Do you have a space where you write? Post a comment (or share a picture) below.