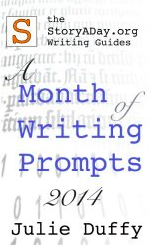 A Month Of Writing Prompts 2014

Writing a story a day for a month is a crazy endeavour, but one that hundreds of writers have signed up for every May since 2010. During month of courageous creativity, writers learn how to write every day (not 'someday'), how to craft a story, how to write in different forms, how to fail and dust themselves off, and write again.
Are you ready to join them?
The StoryADay Month of Writing Prompts book shares the daily writing prompts for StoryADay May 2014: 31 writing prompts, meditations, lessons and pep talks to accompany on your journey to becoming a more prolific, creative and fulfilled writer.
Use these prompts during the StoryADay challenge, or any time you need a creativity boost.